Amazon to Speed up Order Fulfillment Deliveries with Drones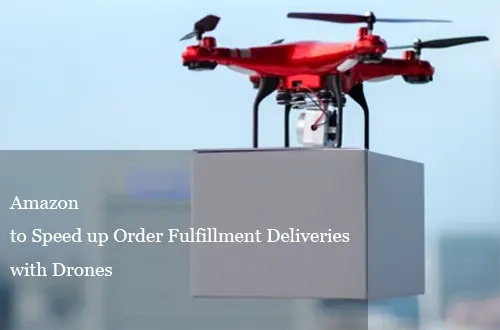 Amazon is revolutionizing its order fulfillment strategy by integrating drones into its delivery network, aiming to make them a routine part of its daily operations.
Current issues in international logistics include transportation inefficiencies and high costs, so many order fulfillment service providers are seeking innovative solutions to improve efficiency and reduce costs. Against this backdrop, Amazon is integrating drones into its fulfillment network to speed up deliveries. This approach shows Amazon's investment and innovation in logistics technology, hoping to provide consumers with a faster and more convenient shopping experience.
Amazon envisions a seamless integration of drones alongside traditional delivery trucks, marking a significant step towards making this technology a routine part of its daily fulfillment operations. Amazon emphasizes that this integration is geared towards streamlining the retail experience, creating a safer and more sustainable delivery model, and ultimately achieving faster product deliveries.
Despite having utilized drones for nearly a year, Amazon acknowledges challenges in the rollout, including reported safety concerns, limited delivery activity, and broader industry obstacles to mass adoption. The company is committed to addressing these issues by collaborating with national and international regulators, as well as engaging with communities in various regions.
Notably, Amazon's drone delivery initiative targets the rapid expansion of coverage by deploying drones at same-day delivery locations. The company intends to double the number of these smaller facilities, strategically positioned near metropolitan areas with efficient fulfillment processes. By doing so, Amazon aims to expedite deliveries of smaller-sized products via drones, capitalizing on the proximity to customers.
What are the Prime Air drone delivery sites included?
Amazon customers in Italy, the United Kingdom, and one additional U.S. city will soon have the option to have packages delivered by drone, starting in late 2024. The Prime Air drone delivery system is expanding to international locations and adding a third U.S. city . America by the end of next year – specific cities in the U.S. and abroad will be announced in the coming months.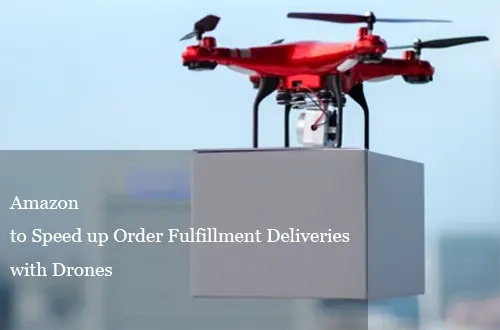 Drone deliveries will no longer be available only at stand-alone Prime Air Delivery centers, such as those in Rockford, California, and College Station, Texas. Going forward, we will integrate drones into the Amazon delivery network so customers can use traditional delivery vans, Flex delivery vans and Prime Air drones departing from the same building.
Once launched, eligible Amazon customers can opt for drone delivery and choose from thousands of items weighing 5 pounds or less, including home goods, everyday essentials, beauty supplies, and office/tech supplies. More details on upcoming cities.
The forthcoming MK30 drones are slated to replace existing models by the end of 2024. Amazon highlights that this updated design will offer a longer flight range, allowing the company to extend its drone delivery capabilities significantly.
Integrate into Amazon's delivery network
Amazon's revolutionary Prime Air delivery drone service will be seamlessly integrated into its existing delivery network, operating from same-day delivery centers to ensure the process runs as expected and improve delivery efficiency. This strategic move is expected to streamline operations while significantly improving delivery processes.
Drone delivery has many advantages
Both Amazon and its customers will benefit from drone delivery, both Amazon itself and its customers. Drone delivery promises to significantly shorten order delivery times, with customers receiving their orders in minutes instead of hours. In addition, the technology can alleviate traffic congestion and reduce the carbon emissions associated with traditional delivery methods; providing opportunities to reach remote or hard-to-reach areas.
Advantages of using third-party international order fulfillment services
For users who need order fulfillment services, the advantage of using third-party order fulfillment service providers is that these service providers usually have advanced logistics technology and complete distribution networks, which can help improve the efficiency and accuracy of order fulfillment and reduce costs. while providing better customer service. In addition, third-party order fulfillment service providers can also customize services according to customer needs to meet their special needs.
By using Chinadivision's order fulfillment services, it can better meet customer needs and improve customer satisfaction while reducing costs and improving efficiency. This cooperation model also helps promote the development and innovation of the entire logistics industry.
While Amazon's drone delivery initiative showcases its commitment to innovation and efficiency, businesses exploring similar enhancements in their order fulfillment processes may find significant advantages in partnering with a third-party order fulfillment service provider. These providers bring expertise, scalability, and established networks that can enhance delivery speed, reduce operational complexities, and provide a more cost-effective solution. By outsourcing order fulfillment, businesses can focus on core activities, leaving the intricacies of logistics to experienced professionals.