Kickstarter crowdfunding fulfillment service for ChinaDivision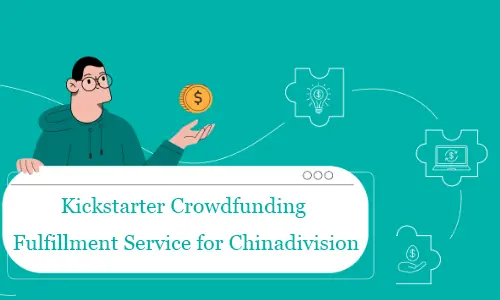 Unlock top-tier fulfillment services for successful Kickstarter campaigns and enhance your crowdfunding experience with a trusted fulfillment solution
In 2023, ChinaDivision can provide Kickstarter crowdfunding services to help companies or individuals in need launch crowdfunding projects and raise funds on the Kickstarter platform.
Kickstarter Fulfillment involves the reward and shipping management of Kickstarter-funded projects, ensuring backers effectively receive promised rewards. Many crowdfunding creators choose to work with specialized fulfillment companies to accomplish this task.
ChinaDivision's Kickstarter crowdfunding fulfillment service refers to a series of services we provide to the project sponsor after the crowdfunding project is successful to ensure the smooth execution and delivery of the project.
Kickstarter crowdfunding fulfillment services include the following aspects
Project management: We will work closely with the project sponsor to formulate a detailed project management plan to ensure that all aspects of the project are effectively executed and monitored.
Supply chain management: We will assist the project sponsor to find suitable suppliers and partners to ensure the supply and quality of the project's raw materials, components and products.
Production and manufacturing: We will assist the project initiator in the management and monitoring of production and manufacturing links based on project needs to ensure that products meet quality requirements and delivery deadlines.
Logistics and distribution: We will assist the project initiator in the packaging, shipping and logistics of products to ensure that the products can be delivered to supporters on time.
After-sales service: We will assist the project sponsor in handling after-sales issues and feedback from supporters to ensure the successful delivery of the project and the satisfaction of supporters.
ChinaDivision's Kickstarter crowdfunding fulfillment service aims to help project sponsors successfully complete the fulfillment and delivery of crowdfunding projects and ensure the rights and satisfaction of backers. If you are interested in our Kickstarter fulfillment services, please contact us for more information and support.
Kickstarter fulfillment services are provided by companies that specialize in handling the storage, packing, and shipping of rewards to backers after a crowdfunding campaign on Kickstarter or a similar platform. These services are particularly beneficial for project creators who may not have the infrastructure or resources to manage the logistics of fulfilling a large number of orders.
Key features and aspects of Kickstarter fulfillment services include:
Warehousing
Fulfillment companies typically have dedicated warehouses where they store the products funded through Kickstarter campaigns.
Order Processing
They manage the processing of individual orders, ensuring accuracy in packing and labeling according to backers' preferences.
Packing and Packaging
These services involve professionally packing items, sometimes including custom packaging, to ensure that products arrive in good condition.
Shipping and Logistics
Fulfillment companies handle the shipping logistics, including selecting the most cost-effective shipping methods, managing customs procedures for international shipments, and providing tracking information.
Returns Handling
In case of returns or exchanges, fulfillment services often manage the process to ensure a smooth experience for backers.
Customer Support
Some fulfillment services offer customer support related to shipping and fulfillment inquiries, ensuring that backers have a point of contact for their questions.
When choosing a Kickstarter fulfillment service, it's crucial for project creators to consider factors such as the fulfillment company's reputation, experience with crowdfunding campaigns, pricing structure, and the geographical reach of their shipping capabilities. This helps ensure that the fulfillment process is efficient, cost-effective, and results in a positive experience for both project creators and backers.
5 recommended Kickstarter crowdfunding fulfillment service providers
1. ChinaDivision
ChinaDivision is primarily known for order fulfillment services. They can be a good option if you're looking for a fulfillment partner in China.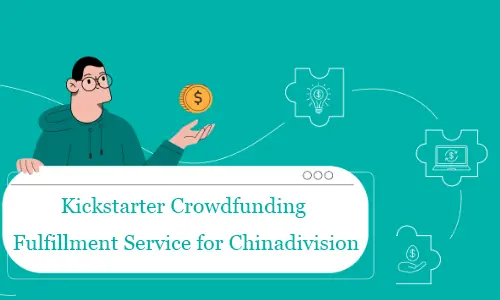 2. Floship
Floship specializes in international crowdfunding fulfillment and has experience in shipping products from China. They provide end-to-end logistics solutions.
3. Easyship
Easyship is a shipping platform that integrates with various fulfillment providers. They can help you compare rates and choose a fulfillment partner that suits your needs.
4. BackerKit Fulfillment
BackerKit, known for its pledge management platform, also offers fulfillment services. They work with various fulfillment partners to ship products to backers.
5. ShipBob
ShipBob is a widely recognized fulfillment provider with a global network. They offer services for crowdfunding fulfillment, including shipping from China.
The process of handling Kickstarter crowdfunding returns in Chinadivision
In terms of returns, you don't need to worry about whether the product is damaged, as we have a customized return management system that can determine whether the product is suitable for returning to inventory. Damaged or opened products can be properly returned and even returned to the shipping source according to specific circumstances. This adds up to investment return income. By using the ChinaDivision service, customers can also develop their business by meeting delivery deadlines, making it easier to expand and facilitate better transactions. We are also strategically located in China, which helps reduce transportation time between you as a customer and your customers.